Recover lost files
Have you ever accidentally deleted irreplaceable photos, or worked for hours on something only to lose it? We will now show you how to recover your valuable files, quickly and easily.
First things first: stay calm! Any rash actions now can make your files unrecoverable. Providing no new data was written on to the memory card, USB stick or hard disk then there is a high likelihood that you can recover your files and documents.
Please avoid all write access to the storage medium affected – writing over files means they can no longer be recovered!
Take a moment to reflect on exactly how the files were lost in the first place. If you simply deleted them "normally" in Windows then it could be that your files are still in the Recycle bin. If so, simply open it and restore the files from there.
If your files cannot be found in the Recycle Bin then you can use a file recovery software program such as O&O MediaRecovery or O&O DiskRecovery. Install the software BUT make sure you do so onto another partition and most definitely not the one from where you wish to recover files.
The recovery download is right here:
http://www.oo-software.com/en/products/oodiskrecovery
One you have installed it open the software and click on "Next" and select the drive in the Window from which you wish to recover files/photos. You can then select "Pictures and Documents" under the selcted disk or partition: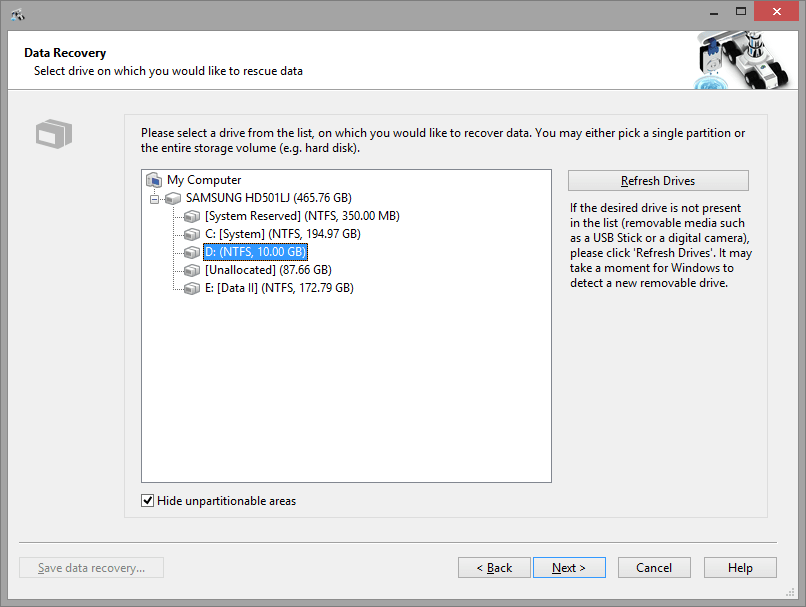 If you have lost photos or videos from a digital camera please connect this to a USB port on your computer, wait momentarily until the system recognizes the camera and then click on "Refresh drives". In the event that it is not recognized due to the mmemory mode used, revome the memory card and use an external ard reader over the USB port.
One more click on "Next" brings you to a page where you can select the search method you would like to use: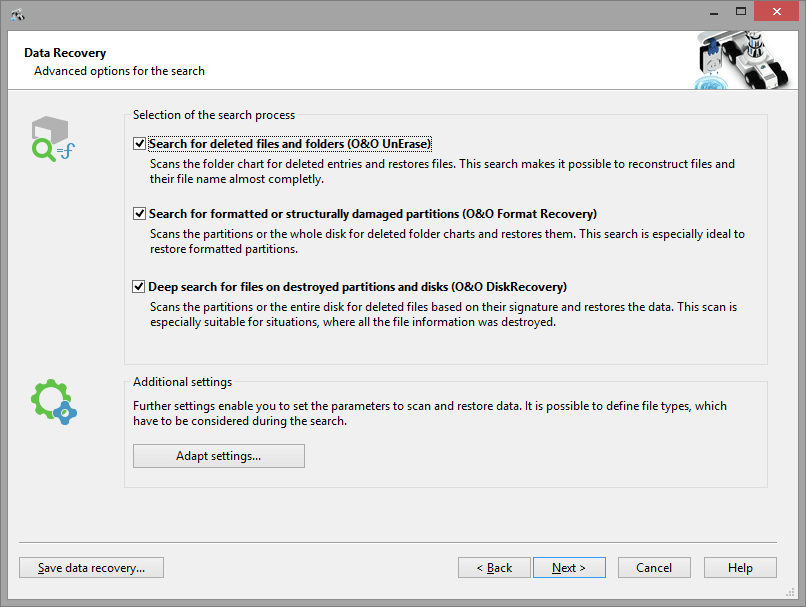 Depending on how the files were lost, this Window lets you select the appropriate analysis and you start by clicking on "Next".
The search methods "FormatRecovery" and "UnErase" get information about the lost files from the file system. You can recover the file name and directory structure so long as this information is still on the storage medium or the memory card concerned.
The search method "DiskRecovery" (Deep Search) searches for signatures (file types) and is therefore very robust. Due to the approach however, a recovery of the file name is not an option.
The status of each search is displayed throughout.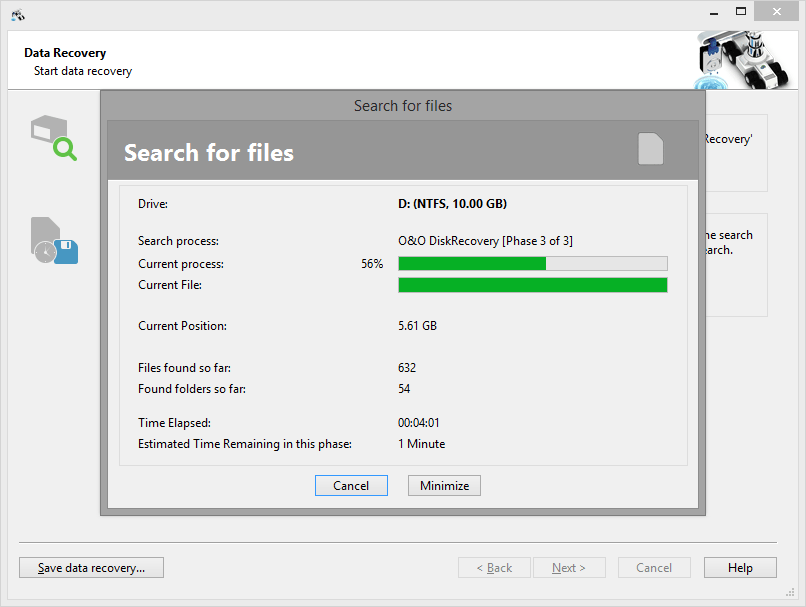 Once the analysis is complete you will see an overview of the various search methods. Open the appropriate tree and select the items you wih to recover.


There is a preview function for many file types. This means you can even see in the trial version which files and photos can be recoverd from your PC or device.
So say for example you want to check which pictures in the format JPG/JPEG were found by a deep search, you open the tree "O&O DiskRecovery" and select the file type JPG or JPEG: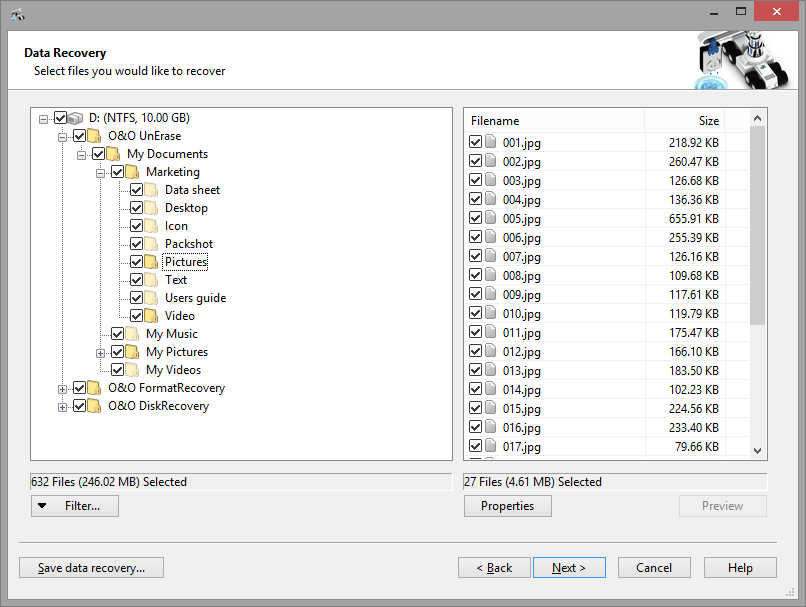 Then highlight the picture in the file list on the right hand side and click on "Preview".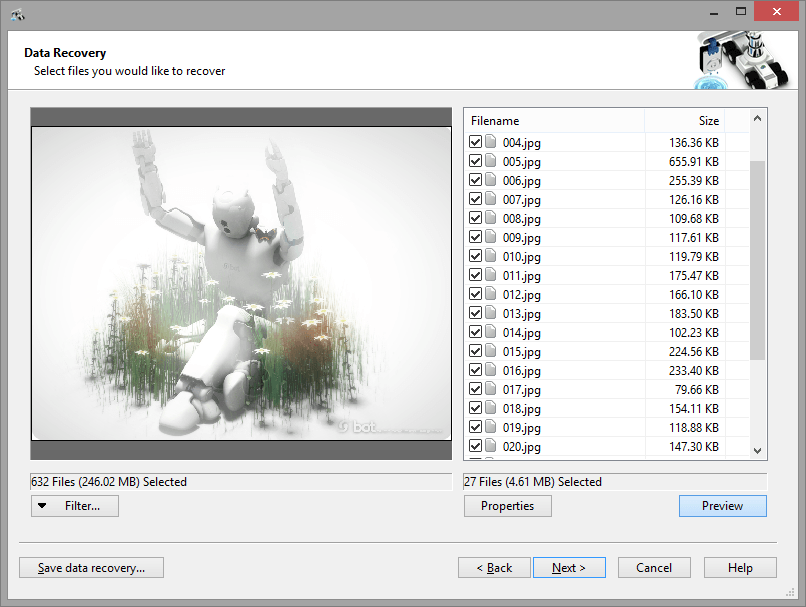 Once you have selected a few or all files that you wish to recover, click again on "Next" in order to save the files found. Should you have not yet registerd the program you will be asked at this point to enter a license number. You must save the photos and documents on a different and entirely separate storage volume or partition. In our experience this works best on an external USB disk or stick.
Recommendation:
Whenever data is lost, regardless of how that happens, always avoid writing new data to the affected storage volume, and keep a clear head! Use a file recovery software to recover your lost files, documents or photos.

O&O DiskRecovery
More background information: