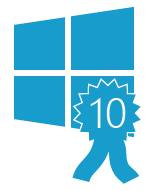 O&O Software guarantees that its top products will function under Windows 10. This means that all affected products will be compatible with Windows 10 at release or an appropriate version will follow. O&O customers who at this point have a Premium Support Plus agreement will receive the product free of charge. All minor upgrades (small version changes, for example from 6.0 to 6.5) will of course remain free of charge.
Compatibility for O&O products with Windows 10
In order however to assure O&O customers that their purchased product can also be used under Windows 10, O&O guarantees their functionality as of today. This compatibility will be achieved through low-cost upgrades or, in the case of minor upgrades, free updates.