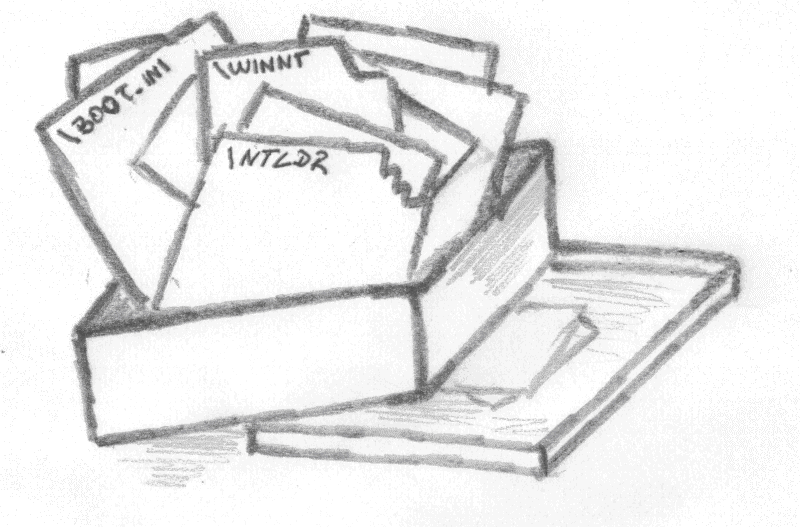 Your PC will slow down over time
Defragmentation is a process in which files stored on the hard disk are sorted and combined.
Compare the hard drive or SSD to a shoebox in which you keep lots of notes (the files). Windows tears up any new notes and simply throws the snippets into the shoe box. If you then want to access a file again, Windows must first find the "file snippets" and then glue them together before the file can finally be loaded. This costs time and vastly reduces performance.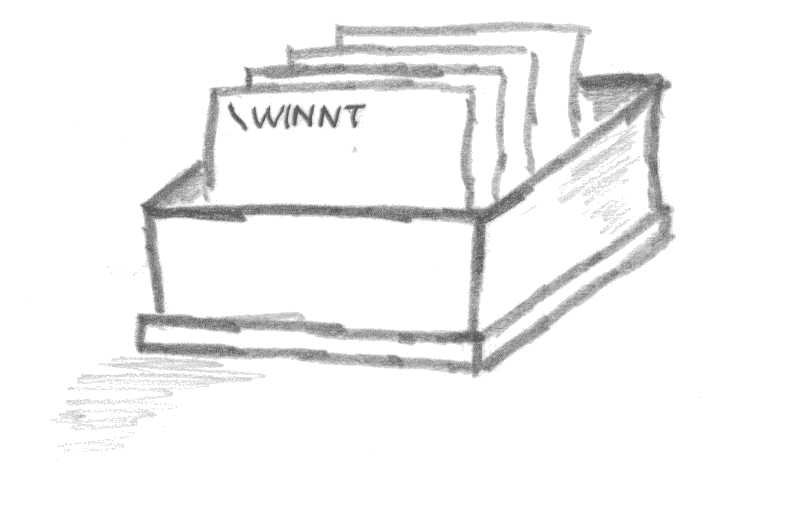 How does O&O Defrag help?
O&O Defrag tidies up this shoebox by combining the snippets of a file and writing them one after the other to the hard drive or SSD. In addition, the files are reorganized so that the access times when loading are minimized. This saves you time and protects your data volumes. If you use O&O Defrag regularly, the access speed and the overall performance of your Windows system will increase noticeably. And so that you never have to worry about "file snippets" again, O&O Defrag can also be run completely automatically in the background.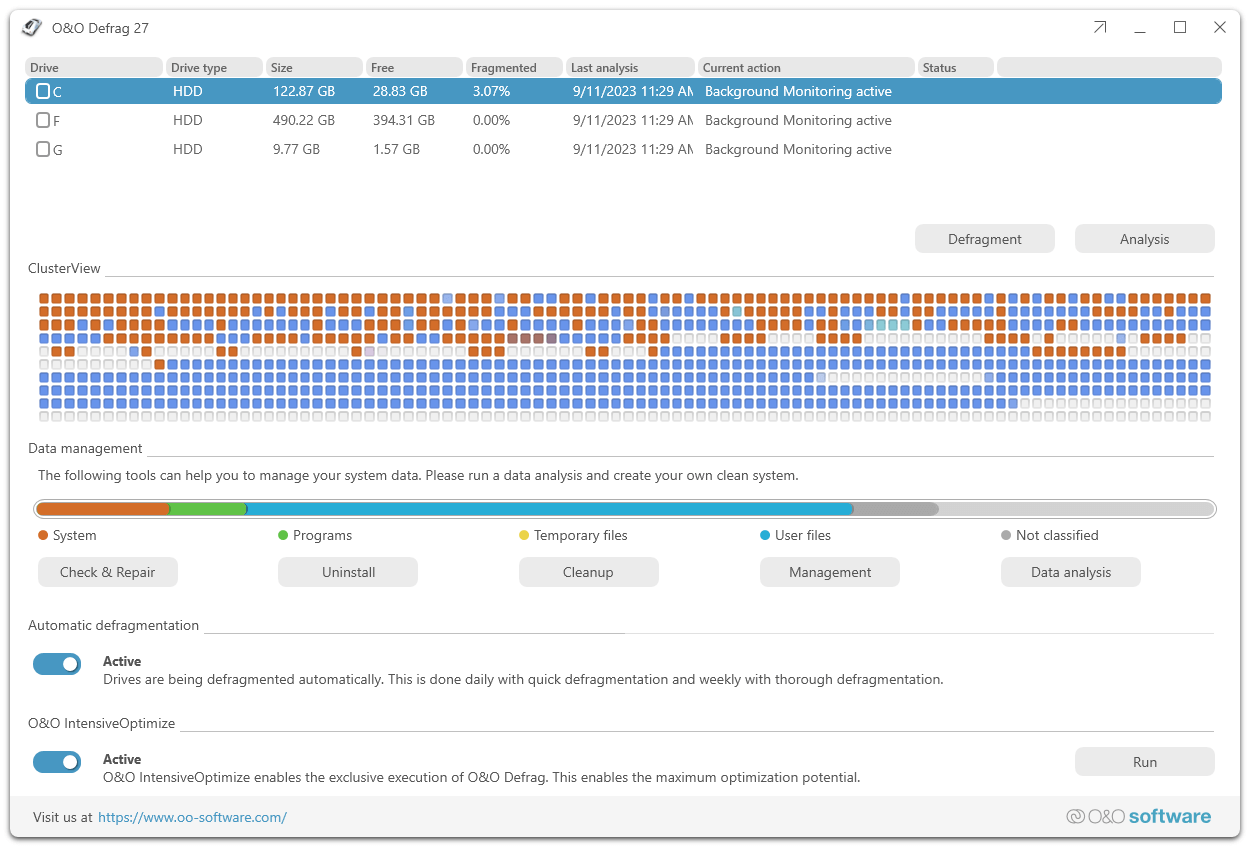 Simply easy
Everyone should have a fast computer. That's why we made O&O Defrag 27 so easy that anyone can use it. The new modern view does not require complicated settings.
No difficult decisions like choosing the best defragmentation strategy for your PC. O&O Defrag takes care of everything itself. All you have to do is choose whether you want to start O&O Defrag yourself manually or whether you want it to take care of everything automatically.
NEW: IntensiveOptimize
The new Intensive Optimization (O&O IntensiveOptimize) is the fastest and at the same time most comprehensive optimization for Windows disks to date. A separate and exclusive instance of Windows is started, in which only O&O Defrag runs and can therefore not only exploit the maximum system performance for optimization, but also have access to all files at the same time. Regardless of whether these are system files or files exclusively locked during Windows operation.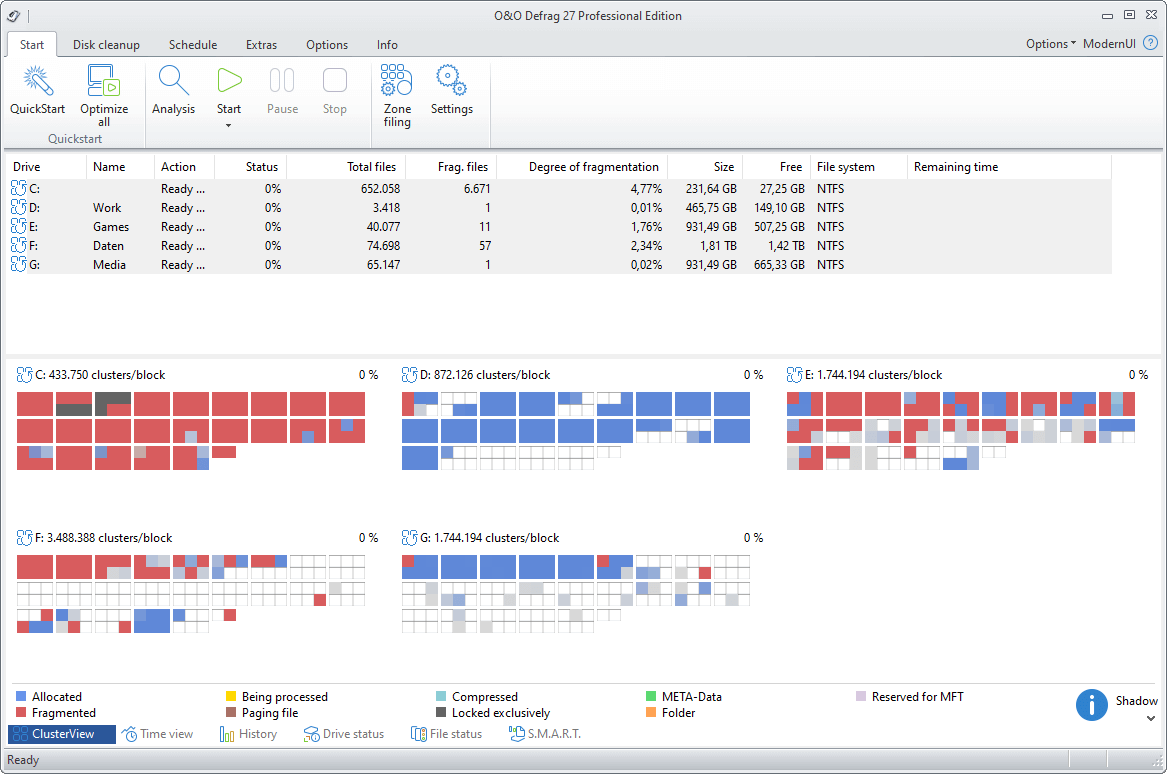 My individual O&O Defrag
Of course, O&O Defrag 27 also gives you the option of choosing your own personal defragmentation strategy. In the classic view, you can make all professional settings yourself.
In O&O Defrag 27 you can switch at any time between the classic view with all professional settings and the modern view reduced to the essentials.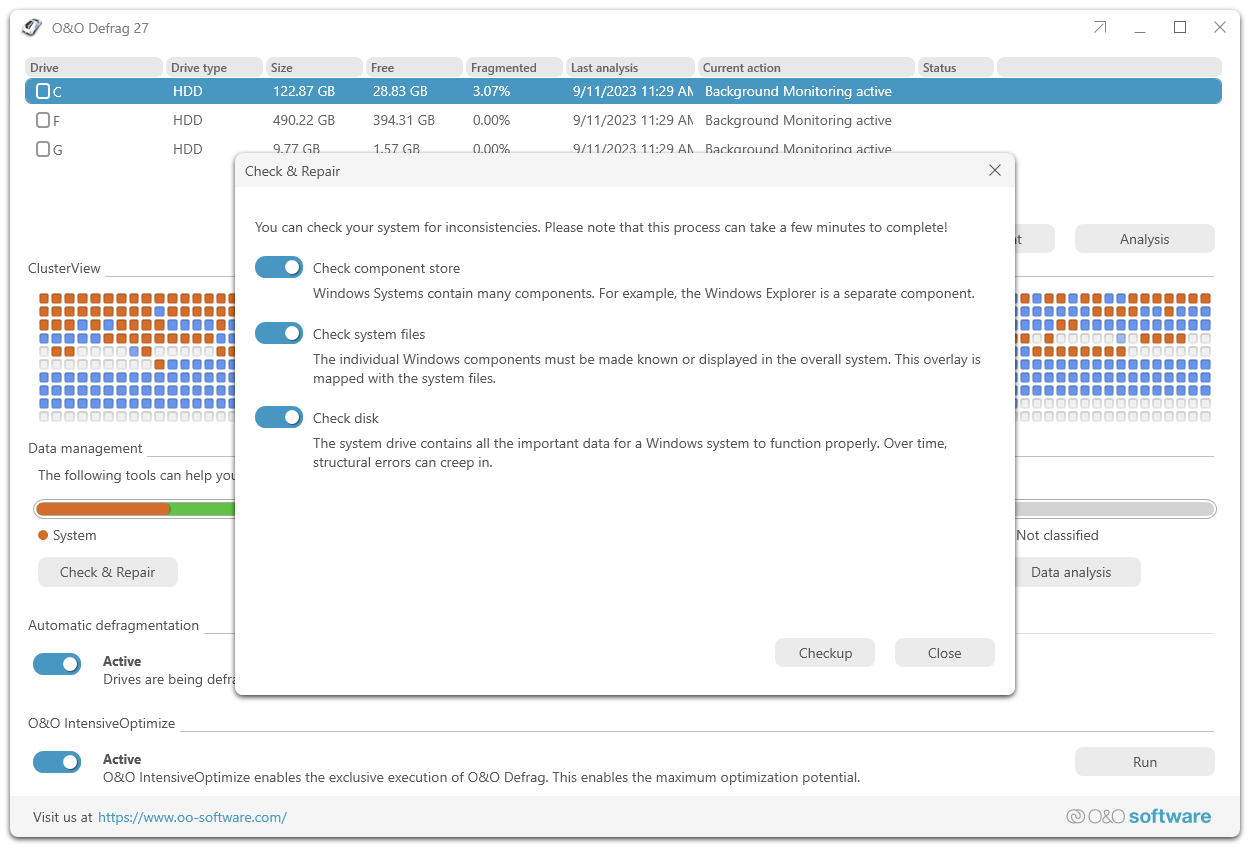 System maintenance of your data volumes
O&O Defrag 27 checks your hard drive or SSD for inconsistencies that can lead to problems. The component memory and the Windows system files are checked for errors. After the check is complete, O&O Defrag will show you whether and which errors were found.
Most errors can be corrected directly with the repair function.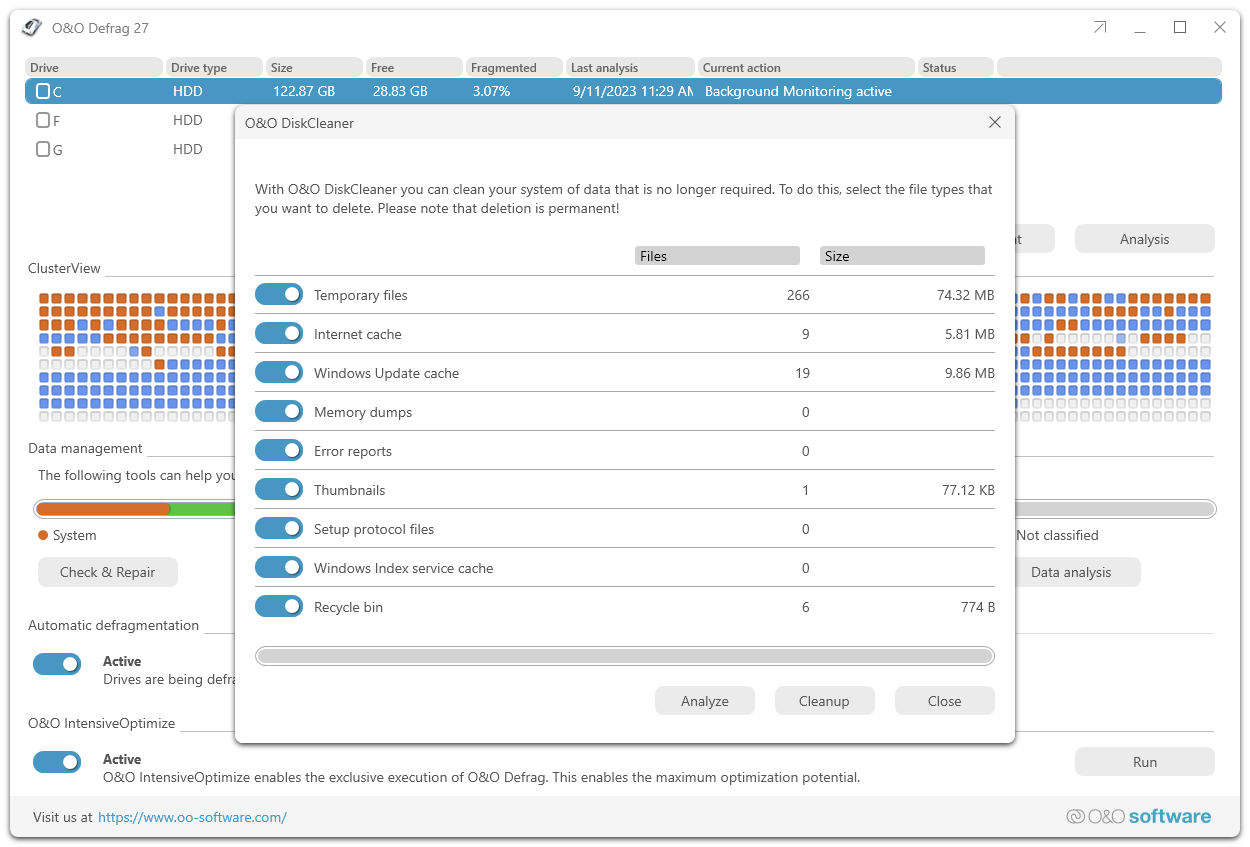 Free up storage space
Over time, more and more ballast accumulates on a PC. Temporary files, internet cache and the like can take on considerable proportions. This can lead to a storage space problem, especially on modern SSDs. And backups also take much longer than is actually necessary.
With the improved O&O DiskCleaner in O&O Defrag you put an end to files that are no longer needed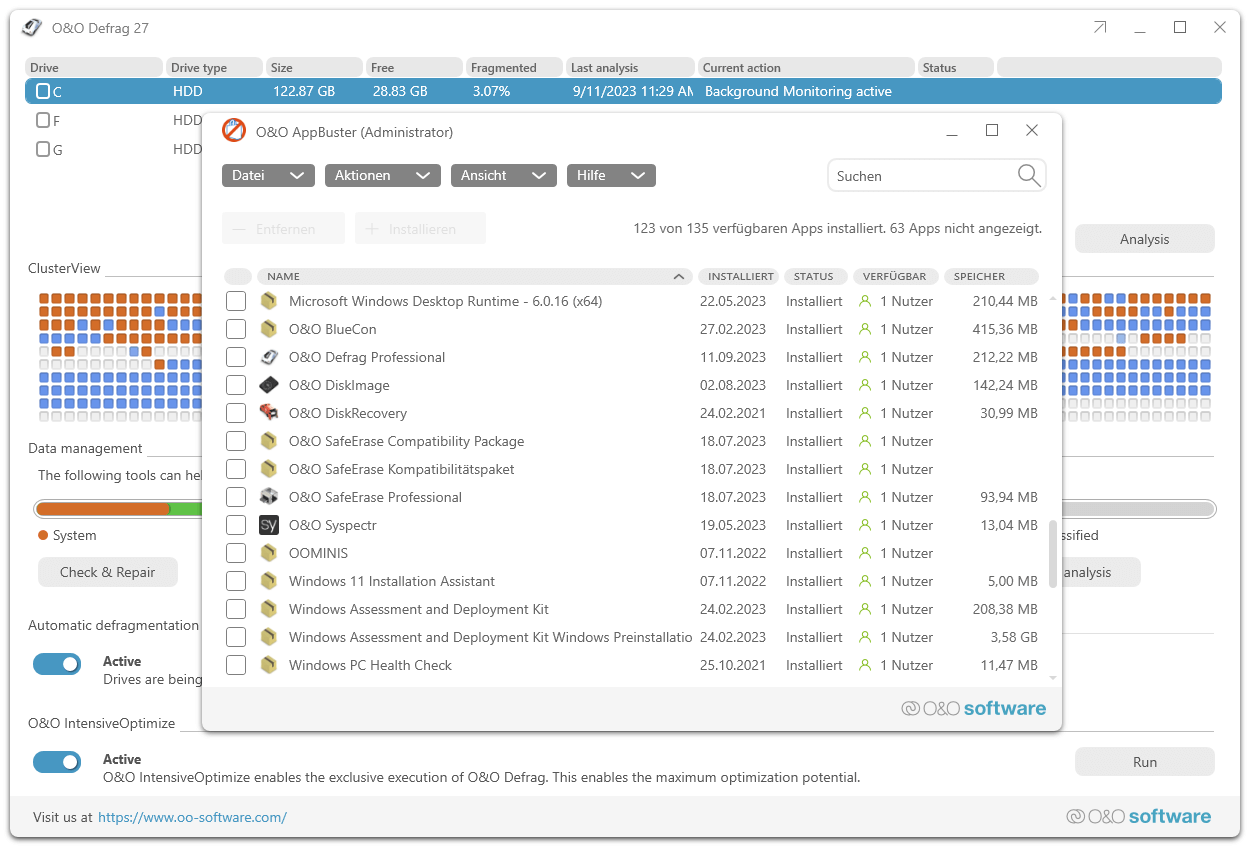 Remove superfluous programs
Programs that are no longer used can pose a security risk. They are definitely wasting disk space. You probably won't need a 2011 tax return program anymore. But do you even know it's still installed?
O&O Defrag 27 now clearly shows you all installed programs. And with one click, you can easily uninstall the ones you no longer need. This saves storage space (important for SSDs) and increases your security.
Automatic background defragmentation
The automatic defragmentation optimizes your data volumes in the background without the performance of your computer being adversely affected. O&O Defrag can be configured so that defragmentation starts automatically when a certain level of fragmentation is reached, on certain days of the week, or whenever your screen saver is active.
Product features
"Install & That's All": After installation, no further settings need to be configured. The programselects and implements the defragmentation method best suited to the system
SOLID/Quick: This method, developed specifically for SSDs, performs a superficial optimization of the SSD, such as erasing the free space. This method is gentler and faster.
SOLID/Complete: This method, developed specifically for SSDs, is a thorough optimization of the SSD.
ClusterView with SSDs: In order to represent the degree of fragmentation of an SSD, the ClusterView now maps the logical structure of an SSD so that, accordingly, 6 blocks are combined into one.
Fragment Filter to identify the most fragmented files on a drive
O&O DiskCleaner
Time View to see which defragmentation activity results in which successful optimization
Easy-to-Use: Ideal for Beginners and Professionals
Even faster system and program starts
Defragmentation time reduced by up to 40%
Defragmentation of locked files
Lifetime Performance Statistics
Optimizing systems with Thin Provisioning
Supports 64 bit versions of Windows 11 und Windows 10
O&O Defrag 27:
Maximum Performance for Your PC