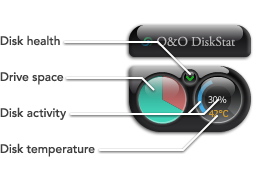 Limited storage capacities are currently still the rule with many Notebooks. The amount of data taking up space on the computer is constantly increasing, and that's not just as a result of the Internet. The time is rapidly approaching when a hard disk will reach the absolute limit of its storage capacity.
To make sure that such a critical moment never arrives, the O&O DiskStat Sidebar Gadget is now there to measure and display the levels of space available or occupied in the memory of a selected drive. Levels of activity and temperature of the hard disk can be
monitored as well – and all of this in real time.
Among the special features:
Animated display of hard disk activity
Displays hard disk space as a Donut diagram
Displays the status of the hard disk
Displays temperature (requires operation of the Sidebar with increased privileges)
Detailed display in Flyout
The status and space of the hard disk are displayed along with its temperature and level of activity at the time of evaluation. Green signifies normal, while orange indicates a range beyond that, and red is a sign of possible failure or diminished performance.
O&O DiskStat 2:
Get an overview of hard disk usage!