Fragmented hard disks put the brakes on your productivity
Fragmented hard disks put the brakes on the servers in a company and as a result have an adverse affect on productivity. The level of fragmentation proportionally increases the time needed for accessing a hard disk. This in turn increases the amount of valuable time lost by each and every employee. The new O&O Defrag Server Edition for Windows servers optimizes your hard disk and packs file fragments securely back together again.
Thanks to clearly displayed graphics and statistics, you can monitor the success of regular defragmentation. After every run you get a graph showing the before-and-after stats. You can then base your configuration of the program on these statistics to optimize the success yet more.
Benefits for your company:
Server and Workstation Performance increases of up to 100%
Prevents new fragmentation efficiently in advance
Organizes related file fragments on your hard drive
Faster system and program starts
Extends the life of your hardware
Speeds up your Internet browser
Increases the chances of recovering lost data
Automatic defragmentation in the background
Speeds ​​up your backup and restoration processes
Defragmentation of your server at the push of a button
Also available for use on virtual machines
Optimization of disks in virtual machines and SANs (Storage Area Networks):
Users of virtual machines know the phenomenon: the amount of data remains the same, but the memory for the virtual container increases and causes the virtual system to slow down. The new O&O Defrag Server Edition effectively eliminates and prevents this performance problem from occurring. For the first time, O&O Defrag can now optimize the actual memory allocation for virtual machines and SANs.
Advanced Settings
Defrag multiple drives simultaneously
Adapts itself to system load (O&O Activity Guard)
Vendor-independent optimization of solid state drives (SSDs)
Classification of drives into zones (Optional)
Execution of Windows commands (Batches)
Defragments individual files and directories
A total of eight defragmentation methods
Defragmentation during startup and at runtime
Automatic check for new versions
Run O&O Defrag via scripts
Assistant to schedule regular defragmentation
Support for USB sticks and memory cards
Evaluation and analysis functions
Display of fragmentation levels
Display of the most fragmented files
Before-and-after display
History view to watch defragmentation success
Dynamic block view during defragmentation
Detailed report management
Study: Save costs with O&O Defrag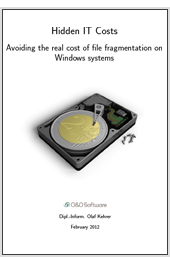 Even in 2019, the phenomenon of files being split up when saved continues not only to cause a significant reduction in system performance, but also creates tangible extra costs for a business. The study « Hidden IT Costs« sheds light on these issues and tells you how you can reduce these costs – with minimal financial and human investment.
Download Study « Hidden IT Costs »
As a certified Microsoft Gold Partner, we have a very solid know-how that is reflected in our products. The simple and quick integration into your corporate network generates an extremely fast ROI and lowers your TCO sustainably. Which means you can focus on what matters: your core business!
Or download a trial version direct:
O&O Defrag 22 Server Edition
Windows® 10, 8.1, 8, 7, Server 2008 R2, Server 2008, Server 2012, Server 2012 R2, Server 2016
O&O Defrag 22 Workstation Edition
For corporate customers:
Please
click here
to request your personal O&O Defrag quote!